Overview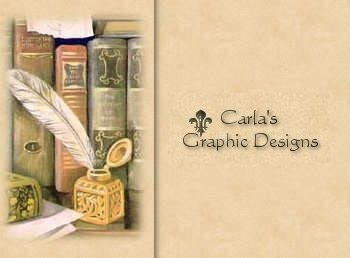 Carla's Graphic Designs has supplied the graphics that are the basis for four Second Site Themes. Thank you, Carla! Second Site user Carol Macke created a custom Theme using Carla's graphics, and that was the inspiration for those Themes.
Choose one of the Themes listed below via the Style.Theme pull-down menu.
Carla's A New Adventure
Carla's Family History
Carla's Family Tree
Carla's Settlers
The pages use similar visual components including an optional left-hand border. The backgrounds, button images, and other adornments and images change according to the Theme choice.
Second Site will automatically create sites that honor Carla's Terms of Use as they were defined as of August 1, 2002, with one exception: Second Site does not include a link to Carla's site on each page that contains her graphics. Carla's site is no longer operable at her original URL and I have been unable to contact her to obtain a replacement URL.
You are welcome to use the graphics included in this Theme on personal and not for profit sites ONLY, but you must agree to Carla's Terms of Use which specify that you may not modify the graphics supplied with the Theme (other than to add text to buttons) and you may not mix on your own graphic elements.
The border image offset property in the Stylesheets.System.Layout.Layout Widths section determines how many pixels to reserve along the left-hand side of the page for the graphic border image. Each Theme sets an appropriate value, but you can adjust it if you want more or less of a margin.
Graphic Files
Button Images
| Filename | Text |
| --- | --- |
| charts.jpg | Charts |
| home.jpg | Home |
| masterindex.jpg | Index |
| surnameindex.jpg | Surnames |
| places.jpg | Places |
| sources.jpg | Sources |
| links.jpg | Links |
| photos.jpg | Photos |
| Filename | Text |
| --- | --- |
| records.jpg | Records |
| documents.jpg | Documents |
| email.jpg | E-Mail |
| plain.jpg | (no text) |
| sign.jpg | Sign or Sign Guestbook |
| view.jpg | View or View Guestbook |
To add a button with a label that is not supplied with Second Site, make a copy of the plain.jpg file and edit it with an image editor. The font specifications are included below.
Background Images
| Filename | Description |
| --- | --- |
| background.jpg | background image |
| leftborder.jpg | left-hand border image |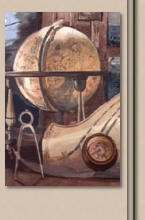 Carla's sets contain a single background image that includes the left-hand border. Second Site expects two images as described above. The background.jpg should not include the border image. The leftborder.jpg image should contain a single copy of the border image as shown in the example. Second Site uses CSS statements to repeat the image down the left-hand side of the page.
Other Images
Filename
Description
welcome.jpg
Large graphic that appears at the top of the main page
arrowleft.gif
These arrows are used in charts to indicate more data off-page. Carla's sets do not include these graphics.
arrowright.gif
Fonts
These are the fonts used in the button images for the indicated Themes.
Theme
Font Characteristics
Carla's A New Adventure

Font: Arial - Bold - 16pt - 1F1A00
Color: #452c25

Carla's Family History

Font: Calligraphic 421 BT - Roman - 22pt - crisp
Text color: #4c4229
Horizontal scale: 90%
Text layer filtered using "Sharpen More"

Carla's Family Tree

Font: Arial mt - regular - 16pt - crisp
Text color: #383628
Horizontal scale: 102%

Carla's Settlers

Font: Maiandra GD - Regular - 16pt
Text color: #7f1c09
Horizontal scale: 105%
International Versions
The button text in the Carla's Graphics Theme graphics are in English. The following languages are also available. Download one of the ZIP files below. Unzip the files into your site's Input (-i) folder. The ZIP file only contains image files that have changed.