Overview
The Family Explorer panel is a navigation aid that supports moving quickly from the subject person to members of his or her family.
The Family Explorer item in the Person Entry list controls the inclusion of the Family Explorer link/button in the person entry. If the item is enabled, the link is included and clicking it opens a panel that shows information about the family of the subject, including three generations of ancestors, the subject's siblings, and the subject's partners and children. The default value is enabled.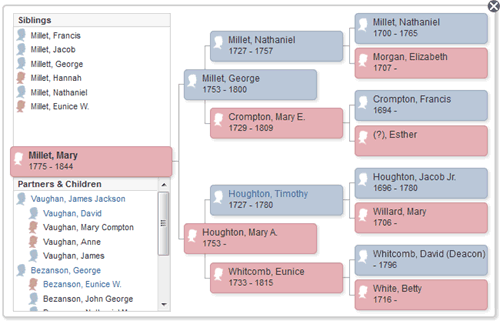 The Family Explorer contents are dynamically generated when the user clicks the link, and the facility requires Javascript to be enabled in the visitor's browser.
Properties
Button Format
The Button Format pull-down menu controls the content of the button that opens the Family Explorer for a person. There are three choices:
Icon – The button includes an icon only.
Text – The button includes text only. The default text for English is "Family Explorer", but you may edit the value in the Strings.Family Explorer Strings section.
Icon and Text – The button includes both an icon and text.
The default is Icon and Text.