Second Site News #048
11 July 2011
In this issue:
Second Site Version 4 Released
This is a major new release with new features and other enhancements. Some new features are described briefly in this newsletter. For a complete list of changes and enhancements, see the Change Log.
The primary development focus for Second Site 4 was to expand the customization capabilities associated with person page entries. Prior versions of Second Site rendered all event tags the same way, but Second Site 4 includes the Tag Groups feature that allows users to alter the appearance of selected tag types. If you currently use one of the narrative Formats, but you'd like to render some events in a grid-format, Tag Groups will let you do that. And vice-versa: if you currently use a tabular Format, but you'd like to include a section of narrative, you can do that, too.
The Virtual Witnesses and Flag Events features complement the Tag Groups feature by generating tag-like content for person page entries.
Second Site 4 also supports Person Page Groups, an option that reduces the number of HTML files in the main output folder. That will solve problems for users with large sites.
There are a lot of other features and changes in this version, and more will be added to Second Site 4 via free updates that will be released over the next two years. My goal is to help TMG users publish the fruits of their research in the most useful and compelling web sites available to genealogists, and Second Site 4 is the next step in the pursuit of that goal.
Tag Groups
Terry Reigel has written an article that describes the new Tag Groups capability. See
Tag Groups
.
Tag Groups are a new feature that allow users to isolate groups of tags and alter their location and appearance in the person page entry. This feature allows users to combine narrative and tabular output in a person page entry. It also allows users to separate certain tag types and display them as a set. For narrative sites, isolating certain events in a table may reduce repetetive text that makes the generated text seem robotic.
The following image shows a reduced-size screenshot of a person page entry from a Narration Format site with three Tag Groups.
Tag Group 1 is for the tags in the main narrative. Tag Group 2 creates a "call out", a narrative section of the page used to highlight some text. Tag Group 3 creates a list of Census tags in a tabular format. The group's title appears as a heading above the table.
With the introduction of the Tag Groups facility, the Format.BMDB First property is obsolete and has been removed. When Second Site 4 reads a Second Site 3 or Second Site 2 SDF file where Format.BMDB First is enabled, Second Site 4 creates the necessary Tag Groups to produce the same output. Unlike prior versions, however, users can edit the Tag Group for the first paragraph to add or remove event types and make other customizations.
You can read more about Tag Groups on the help page.
Virtual Witnesses
The Virtual Witnesses feature adds witnesses to events while building person page entries without changing the TMG database. This makes it possible to treat a person as a witness without adding or maintaining witness entries in the TMG project. So, for example, you can make parents virtual witnesses to the birth events of their children, and use the witness sentence to control how the child's birth event appears in the person page entry of the parent.
Virtual witnesses are probably not appropriate for most sites. When using the Narrative or Narration Formats, the additional witnessed events will tend to clutter the narrative and make it hard to construct narratives that flow, partly because the chronological sequence is determined by the sort date of the witnessed event, a sort date that it is impractical to change for the purposes of the narrative of a witness. Witnessed events seem more appropriate for sites that use the one of the tabular Formats or isolate witnessed events in a separate panel via a Tag Group. Even so, you may not want to publish a site that uses witnessed events, but you may want to use them when using Second Site to review your TMG project.
The example person page entry below shows a set of virtual events (Birth of Son, Birth of Daughter, etc.) mixed with Birth, Marriage, and Death events and rendered in a Table Panel via the Tag Groups feature. The result is an abbreviated "timeline" for the subject, Mary Millet.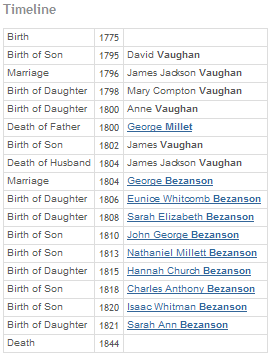 You can read more about Virtual Witnesses on the help page.
Flag Events
Terry Reigel has written an article that describes the new Flag Events capability. See
Flag Events
.
Flag Events control the addition of content to person page entries. They are virtual events that Second Site creates based on flag values. Flag Events are added to the list of tags and you control their appearance via the Tag Groups feature.
You can use Flag Events to add a table to the person page entry that lists certain flag values, or use them to add literal text to a narrative. The example person page entry below shows the result of using two Flag Events to create a small table that shows the "Immigrant" and "Related By" custom flag values.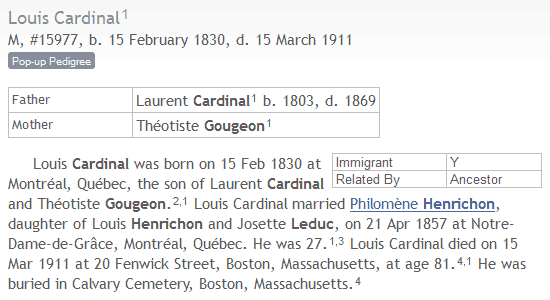 The help page for Flag Events contains more information and an example.
Person Page Groups
The Person Page Groups feature reduces the number of person pages that are stored in a single folder by grouping pages into subfolders. Second Site writes a maximum of 1000 files per folder. This makes the Output (-o) folder less cluttered and, for large sites that use one person per page, avoids problems where too many files are located in a single folder. See the help page for more details.
Upgrading to Second Site 4
Upgrading is easy! Install the new version and then open your Second Site 3 or Second Site 2 SDF file with Second Site 4.
Recent Purchases
Customers who purchased the
full version
of Second Site 3 on or after May 1, 2011 will receive a free license for Second Site 4. The license will be sent to the email address associated with that purchase. Customers who qualify for the free license should
not
purchase the upgrade or the full program:
customers who qualify for a free license but make a purchase anyway will be charged a handling fee equal to the upgrade fee.
Customers who recently purchased the upgrade to Second Site 3 are not eligible for a discount; they should purchase the Second Site 4 Upgrade.
If you purchased prior to May 1, 2011, even by only a day or two, you do not qualify for the free upgrade. I know it can be frustrating to miss a cutoff date by a small margin, but there are always customers who are just outside the cutoff date no matter when that date is. Second Site is updated fairly frequently, and most of the updates are free. I am confident that the longer you have Second Site, the more you will think it's a good value.
Frequently Asked Questions
Q: I just bought Second Site 3. Do I have to pay for the upgrade?

A: See the Recent Purchases section above.

Q: Will Second Site 4 read an SDF file written by Second Site 3?

A: Yes, Second Site 4 will read an SDF file written by Second Site 3 or Second Site 2. Properties and settings that have been changed in Second Site 4 are converted automatically.

The opposite is not true: do not open a Second Site 4 SDF file using a prior version of Second Site.

Q: Will my custom Theme, Format, etc., still work in Second Site 4?

A: Custom Themes should work without any modifications.

Custom Formats will not work properly. The changes associated with Tag Groups require updates to Custom Formats.

Whenever Formats change in a new release of Second Site, it's a good idea to recreate your Custom Format by copying the original Second Site Format and re-applying the changes you made to customize it.

Q: Will my current preferences, such as the UDF folder assignment, carry over to Second Site 4?

A: Second Site 4 will read your preferences from Second Site 3. This affects your UDF setting, default editor, and other settings that you manage via the File > Preferences command in Second Site. If you are upgrading from Second Site 2 or prior, you will have to update the preferences manually.

Even though Second Site 4 will read preferences set by Second Site 3, it's a good idea to review your preferences after you upgrade to make sure they are set the way you want.
Downloads
Second Site is available via download only. See the Downloads page.
Purchases
For purchasing information, see the Purchases page.