Second Site News #054
19 April 2013
In this issue:
Second Site Version 5.0 Released
This is a major new release with new features and other enhancements. Some new features are described briefly in this newsletter. For a complete list of changes and enhancements, see the Change Log.
Person Entry
The primary development focus for Second Site 5 was to expand the customization capabilities associated with sections in the person page entry. In prior versions of Second Site, the Formats were fairly rigid, and if users wanted to adjust them, they had to implement a Custom Format. With the addition of the Person Entry section, users can customize the sequence of content in the person page entry, and they can also set options for many of the items, including the Family Section and others. Want to move the Parent Section above or below the tags, or disable it entirely? Go ahead, you can.
Speaking of the Family Section, you can now customize the Family Sections.Heading Format and specify your own Family Sections.Heading Sentence.
Family Explorer
The Family Explorer in Second Site 5 replaces the Pop-Up Pedigree. The Family Explorer shows an additional generation of ancestors, and also shows siblings, partners, and children. It is styled more like a chart than the Pop-Up Pedigree, and you can customize its colors and other appearance properties. The data structure for the Family Explorer has been optimized to reduce the impact of including information about more people on each page.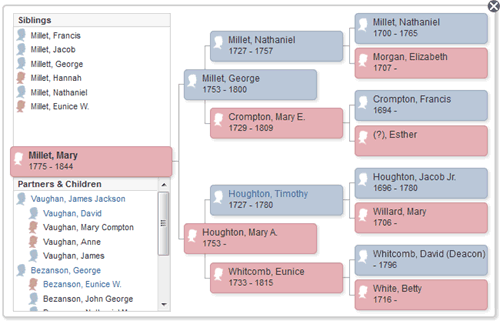 SubMenus
For the benefit of users with many Custom Pages, Second Site 5 supports SubMenus that drop-down beneath or beside a parent menu. When a User Item creates a link, and that item is placed on a Custom Page, one of the Menu property choices is "SubMenu". Setting the Menu to SubMenu adds the current item to a drop-down menu for the parent item.

In the example, the user has hovered over the Charts menu, then its submenu "Jones Family", and finally over the last item, "Pedigree of Martha Jones". The styles included with Second Site highlight the current item and each item along the path back through its parent menus.
Charts

Smith Family

Descendants of Jeb Smith
Pedigree of Bill Smith

Jones Family

Descendants of Russell Jones
Pedigree of Martha Jones
The User Items to construct the Charts menu and its submenus are shown at left.
All of the User Items beneath the Charts Custom Page have their Menu property set to "Submenu".
Other New Features
There are several other new features that have been requested by users.
Technology on the web marches on, and Second Site moves along with it.
The Map Editor in the Map User Item was updated to use the latest version of the Google Maps API, v3. The Map Editor works a little differently than in Second Site 4 and previous, so please review the help page.
Internet Explorer Version 6 (IE6) has finally shuffled off this mortal coil and so it is not supported by Second Site 5.
There are additional features and changes in this version, and more will be added to Second Site 5 via free updates that will be released over the next two years. My goal is to help TMG users publish the fruits of their research in the most useful and compelling web sites available to genealogists, and Second Site 5 is the next step in the pursuit of that goal.
Coping with Growth
I have been developing—and supporting—Second Site for more than a decade, and it has grown to include thousands of properties, dozens of User Items, and various facilities that all interact to create a professionally implemented web site. As I enhance the program, I strive to reduce the negative impact of adding new features: the more features there are, the more there is for users to learn and to wade through. There are several changes in this version that are designed to make Second Site more usable.
Over the years, the Stylesheets.System section had grown to include more than a hundred subsections. The list was simply too long, and even experienced users had trouble locating subsections. In Second Site 5, the System section has been split into groups that keep related subsections together.
The new Person Entry and Body Tags sections combine to provide many new features and capabilities, but they replaced two Second Site 4 sections, Format and Tag Groups, and so the overall weight of the program is about the same. The new structure provides a mechanism for the addition of new properties that apply to specific parts of the person page entry, but keeps those properties "out of sight and out of mind" for users who are satisifed with the default behavior and appearance.
Several Stylesheet sections have been renamed to improve consistency.
Redundant properties for specifying the Main Page content have been removed. Content for the Main Page is set via the Main Page User Item.
Several new String properties replace the XML files that accompanied Formats in prior versions. This eliminates one reason to create a custom Format—to change literal text supplied with the Format—by placing the text in the SDF file where it's easy to change.
Converting from a Previous Version
Second Site 5 will open and convert SDF files written by previous versions of Second Site including SS4, SS3, and SS2. The conversion includes customizing the Person Entry section based on the Format used by the input file and the other properties in the file.
If your site uses a Custom Format, I recommend that you change your SDF file to use one of the Formats supplied with Second Site before you open the SDF file in version 5. That will allow the conversion process to create an accurate version of the Person Entry section. Custom Formats from Second Site 4 or previous must be updated to work with Second Site 5, and many users will discover that they do not need a custom Format because of the expanded capabilities provided by the new Person Entry section.
Upgrading to Second Site 5
Upgrading is easy! Install the new version and then open your current Second Site SDF file with Second Site 5.
Recent Purchases
Customers who purchased the
full version
of Second Site 4 on or after March 1, 2013 will receive a free license for Second Site 5. The license will be sent to the email address associated with that purchase. Customers who qualify for the free license should
not
purchase the upgrade or the full program:
customers who qualify for a free license but make a purchase anyway will be charged a handling fee equal to the upgrade fee.
Customers who recently purchased the upgrade to Second Site 4 are not eligible for a discount; they should purchase the Second Site 5 Upgrade.
If you purchased prior to March 1, 2013, even by only a day or two, you do not qualify for the free upgrade. I know it can be frustrating to miss a cutoff date by a small margin, but there are always customers who are just outside the cutoff date no matter when that date is. Second Site is updated fairly frequently, and most of the updates are free. I am confident that the longer you have Second Site, the more you will think it's a good value.
Frequently Asked Questions
Q: I just bought Second Site 4. Do I have to pay for the upgrade?

A: See the Recent Purchases section above.

Q: Will Second Site 5 read an SDF file written by Second Site 4?

A: Yes, Second Site 5 will read an SDF file written by Second Site 4, 3, or 2. Properties and settings that have been changed in Second Site 5 are converted automatically.

The opposite is not true: do not open a Second Site 5 SDF file using a prior version of Second Site.

Please see the note above about resetting the Format in SDF files that use a Custom Format.

Q: Will my custom Theme, Format, etc., still work in Second Site 5?

A: Custom Themes should work without any modifications.

Custom Formats will not work properly, and Second Site 5 will reject Formats that have not been updated.

Before you attempt to update or recreate a Custom Format, I recommend that you experiment with the options in the Person Entry section. Many of the enhancements were intended to replace the need for Custom Formats.

If you still need a Custom Format, you should update your Custom Format by copying the original Format supplied with Second Site that you used as the basis for your Custom Format, and re-apply the changes you made to customize it.

Q: Will my current preferences, such as the User Data Folder assignment, carry over to Second Site 5?

A: Second Site 5 will read your preferences from Second Site 4. This affects your UDF setting, default editor, and other settings that you manage via the File > Preferences command in Second Site. If you are upgrading from an older version, you may have to update the preferences manually.

Even though Second Site 5 will read preferences set by Second Site 4, it's a good idea to review your preferences after you upgrade to make sure they are set the way you want.

Some preferences, such as window sizes and positions, are reset when you upgrade.
Downloads
Second Site is available via download only. See the Downloads page.
Purchases
For purchasing information, see the Purchases page.